The Upper Burlington Community Hall Association
<![if !vml]>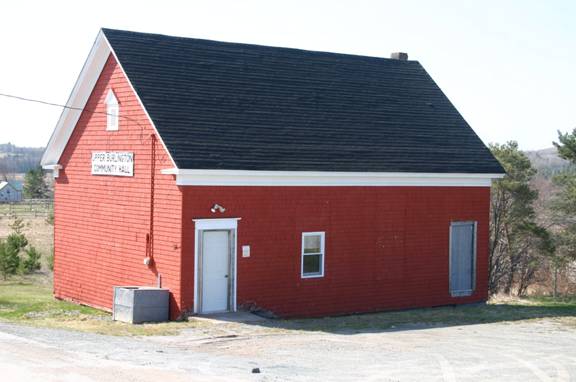 <![endif]>
The Upper Burlington Community Hall is a community facility governed by the Upper Burlington Community Hall Association.
Purpose
The objectives of the association are:
(a) To maintain the Hall at 69 Old Walton Road in good working order
(b) To provide recreational facilities and entertainment for community members.
Both objectives will be furthered by highlighting the history of the one-room rural schoolhouse in Upper Burlington for over 100 years, encouraging support for its maintenance from former pupils, teachers, and their descendants, wherever they may reside.

Executive 2008


Chair
Randy Barkhouse
Vice-Chair
David Smith
Secretary/Treasurer
Sharon Dill
Trustees
Connie Barkhouse
John Barkhouse
Eldon Dill
Warren Dill
Kathie Laffin
Pat Postma

Hall Rentals

Connie Barkhouse
John Barkhouse
Funding
Since its inception as a community hall, the model for sustaining the building has been based on rentals, fundraising events, and the annual municipal grant for maintenance. That model has been enlarged to encourage support from those wishing to preserve the history as a one-room rural school, by becoming Sustaining Members of the Association.
Sustaining Memberships
Individuals from inside or outside the community can become Sustaining Members by contributing $50 or more annually to the support of the building. Such donations cover a one-day rental of the building, an annual membership in the Association, and an updated copy of the history. Donations may be mailed to:
Upper Burlington Community Hall Association
69 Old Walton Road
RR 1, Newport, Hants Co, N.S.
B0N 2A0